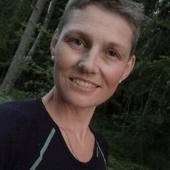 Ann Yxnacke
Communication and Security
Berätta om din roll på Rejlers!
Jag är konsult och certifierad besiktningsman och arbetar med fibernät och driftsäkerhet. Är även "bredbandskoordinator" till en kommun, vilket innebär att jag ser över allt som är relaterat till fiber. 
Vad är det roligaste med ditt jobb?
Att få jobba med sånt som intresserar mig, samt att jag lägger upp mitt arbete själv.
Hur skulle du beskriva Rejlers med tre ord?
Kunniga med Bredd och Tillsammans
En av våra superpowers är #Open source culture – vad innebär det för dig?
Att det är okej att tänka nytt och annorlunda, att tänja på det inrutade! Att vara frågvis och nyfiken uppmuntras på Rejlers 🧐
Rejlers vision är Home of the learning minds – vad innebär det för dig?
Att vara nyfiken, rent av vetgirig – en bra dag är när man lärt sig något nytt, vilken tur att jag har många sådana! Och att sen föra kunskapen vidare, så det kommer fler till nytta i organisationen, vi lär hela tiden av varandra! 
Har du någon dold talang?
Japp, jag bakar väldigt god kola 😋

Vilken är din superpower?
Jag är en social kameleont!
Förebild?
Pippi Långstrump