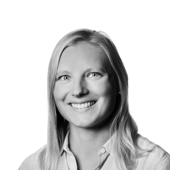 Anna Bachman
Infrastructure
Berätta om något du är extra stolt över!
Att jag vågade följa mina drömmar och elitsatsa på min idrott, och därmed arbeta deltid, under de första åren efter studierna. Att ha den resan med mig är så mycket värt för mig nu när jag i ställt fokuserar på arbetskarriären.
Hur skulle du beskriva Rejlers med tre ord?
Familjärt 🤍
Starka kvinnor 💪
Nytänkande 🔮
Att skratta tillsammans gör jobbet roligare! Berätta om ett tillfälle då du haft extra kul på jobbet. #funatwork
När vi innan jul hade pepparkakshusbyggartävling på kontoret! Kul att se sina kollegors kreativa sida!
Vi vill vara "Home of the learning minds". Hur kan du bidra till en lärande miljö? Genom att öppna upp för diskussioner i olika typer av forum och låta alla komma till tals. Våga ställa frågor till varandra. Att behöva formulera sig, för att kunna lära ut till någon annan är väldigt lärorikt i sig.
Vad innebär vår vision, HOME OF THE LEARNING MINDS, för dig?
Att lärande är viktigt, och att det därmed alltid är okej att fråga om du inte förstår.
Dold talang: Bra på att visualisera, både en verklig plats utifrån en karta/ritning eller en målbild tex i ett projekt.
Vad gör du när du inte jobbar? Är ute i naturen, med skidor, löparskor eller en kopp te och något fika.
Vilken är din superpower? Kan hålla mig lugn och fokuserad på uppgiften i alla situationer