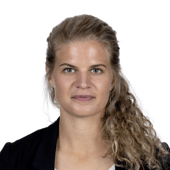 Maja Truedsson
Projektledare – Industry
Teamwork är viktigt för att nå framgång. Hur skulle du beskriva dig själv som lagspelare? 
Att vara lagspelare är en av mina superpowers! I den roll och de projekt som jag jobbar i ser jag mig som en spelare som är lyhörd, ser till så att teamet är trygga i vad de ska göra och bidra med tydlighet för att få projekten och teamet att jobba mot de uppsatta målen.
Vi är the big small company - hur skulle du beskriva det närmare? 
Det finns en familjär känsla inom företaget, oavsett vilket kontor man tillhör. Samtidigt så speglas det stora bolaget utifrån uppdragen som vi får förtroende av våra kunder att jobba i 💗
Vad innebär vår vision, HOME OF THE LEARNING MINDS, för dig? 
För mig innebär det att det finns utrymme och plattformar för att utvecklas och att Rejlers vill vara med i utvecklingen framåt. Det visar också på att vi medarbetare är Rejlers största tillgång och företaget vårdar om vår utveckling och skapar förutsättningar för det.
Vi söker fler medarbetare. Varför tycker du man ska välja Rejlers? 
Att vara konsult och jobba på Rejlers i en föränderlig miljö är roligt och utmanande! Det är spännande att vara med och bidra i projekten hos våra kunder i omställningen mot ett mer hållbart samhälle. Det är kul att jobba på Rejlers och man lär mig något nytt hela tiden. Dessutom har jag fantastiska kollegor!
Beskriv hur en vanlig dag kan se ut för dig! 
Det är väldigt blandat! Det beror på var i projekten vi befinner oss i. Vissa dagar är det mycket möten, både fysiskt och digitalt. Andra dagar är man ute på plats hos kund vid installationer eller idrifttagningar.