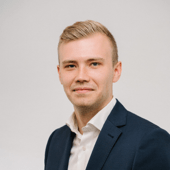 Johannes Norén
Business Unit Manager – IT
Vad får dig att trivas bra på Rejlers? 
Jag upplever att det är väldigt lätt att sträcka ut en hand till kollegor i företaget om man behöver hjälp med något – och jag får alltid den hjälp som jag behöver. Det tycker jag är en stor skillnad mot många andra företag. Utöver det tycker jag att de grupper som jag arbetat i alltid haft en väldigt familjär stämning vilket får mig att trivas väldigt bra 🤗
Varför ska man jobba som teknikkonsult? 
Man ska arbeta som teknikkonsult för att få en bra variation i arbetet där man alltid kan testa på nya områden och uppdrag.
Vad betyder Home of the learning minds för dig? 
För mig betyder det att det alltid finns utrymmet att utvecklas och lära sig nya saker. Det kan vara nya typer av uppdrag inom nya områden eller en kurs för att utvecklas inom sitt nuvarande område!