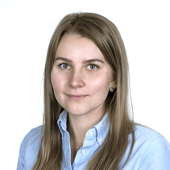 Matilda Kuusela
Bygg- och projektledare – Buildings
Hur länge har du jobbat på Rejlers?
Jag har jobbat i ungefär ett år - ett väldigt roligt år!

Beskriv hur en vanlig dag ser ut för dig?
En arbetsdag som bygg- och projektledare innebär stora variationer, det finns ingen "vanlig dag" direkt. Ena dagen är jag ute på bygget och kollar hur projektet fortlöper eller är med på besiktningar och platsbesök. Andra dagen sitter jag i diverse möten. Tredje dagen kanske spenderas på kontoret med diverse administrativa arbeten, upprättande av förfrågningsunderlag, telefonsamtal, svara på mejl osv. Dagen därpå kan vara en mix av allt detta. Det är stor variation som sagt, vilket är något jag uppskattar!
Vad gör dig till en framgångsrikt bygg- och projektledare?

Det som gör mig till en framgångsrik bygg- och projektledare är att jag gillar variation, att "rodda" i frågor och att bli satt i nya situationer och uppdrag. Att jag är social och en riktig snackpåse ser jag också som en styrka då jobbet innebär mycket olika kontakter med olika personer 🤩
Hur skulle du beskriva Rejlers med tre ord? 
Peppande, modernt och genuint!
Vi vill vara "Home of the learning minds". Hur kan du bidra till en lärande miljö? 
Som nyfiken "rookie" är jag övertygad om att jag bidrar till en lärande miljö genom att ställa frågor till mer erfarna kollegor! Genom att göra det så "utmanas" även kollegorna och behöver tänka till lite extra varför dom gör som dom gör, ibland kanske de till och med tänker om och är öppna för nya förslag. Eftersom jag även är ganska färsk från skolbänken så har jag nog även fått med lite tankesätt därifrån och ibland ser saker med andra ögon än de som jobbat längre i branschen.
Har du någon förebild? 
Eftersom min kollega Nina Vogel var en stor inspiration under Rejlers föreläsning på universitetet så säger jag Nina. 😊 Hon är en av många förebilder!