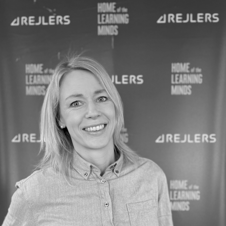 Nina Vogel
Byggprojektledare och Teamledare – Buildings
Hur många år har du jobbat på Rejlers? 
Jag har jobbat här i 6,5 år nu!

Vad gör dig till en framgångsrik projektledare? 
Det är att jag gillar att ha ordning i mina projekt, att jag är lyhörd och ödmjuk i min roll.

På vilket sätt blir du utmanad i ditt arbete? #lovethechallenge
Att driva ett byggprojekt från start till mål med allt en kan stöta på längs vägen, samt att jobba tillsammans med många olika människor, är alltid utmanande😊
Vad innebär vår vision, Home of the learning minds, för dig? 
Att vi eftersträvar en kultur av lärande är jätteviktigt både för oss konsulter, som får möjlighet att utmanas och utvecklas, och för våra kunder som får ta del av vår kunskap i sina projekt.
Hur kan du bidra till en lärande miljö? 
I vår grupp jobbar vi med regelbundna möten, med fokus på erfarenhetsåterföring, där vi delar med oss av sådant vi lärt oss i våra uppdrag. Det är viktigt att vi har högt till tak och delar med oss av både lyckade och mindre lyckade erfarenheter.
Berätta om något du är extra stolt över! 
Just nu är jag extra stolt över att precis ha avslutat ett jättetrevligt om- och tillbyggnadsprojekt där jag hjälpt kunden att skapa fantastiskt fina och mer ändamålsenliga lokaler för deras verksamhet. Det är så häftigt att få ha tagit projektet genom hela processen, från tidiga skisser och utredningar till inflytt 🏠
Har du någon dold talang? 
Motorsågskörning😁
Vad gör du när du inte jobbar?
Driver min gård samt utövar och undervisar yoga.