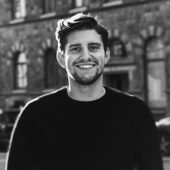 Patrick Swora
Elkonstruktör – Buildings
Patrick, vad har du för superpower?
Min superpower är min noggrannhet! Och även att jag gillar och är bra på att prestera både visuellt och funktionellt.
Varför tycker du att man ska jobba som teknikkonslt på Rejlers?
Det är ett arbete där problemlösning och innovationer är en stor del av jobbet. Man får vara på tå och det är kul!
Vad får dig att trivas så bra på Rejlers då?
Alla grymma kollegor, innehållet i mitt arbete och att vi sitter i otroligt fräscha lokaler. Det är en fröjd att gå till jobbet faktiskt!

Vad betyder Home of the learning minds för dig?
Kort förklarat så innebär det att företaget satsar på spridning av kunskap och information 👉 vi hänger med i branschens utveckling. Nya utmaningar och kompetensutveckling överlag är viktigt för att jag ska trivas och vilja stanna hos en arbetsgivare!
Vi tror starkt på att vi mår som bäst när vi får möjlighet att utvecklas - både på och utanför jobbet. Vad gör du när du inte jobbar Patrick?
Jag pysslar med båten och åker el-bräda!